We're delighted to be partnered with Bird & Blend Tea Co. after we banged on about them on multiple episodes. We often sip on their blends while we record and we know many of you have bought into them from our recommendations!
Do us a favour, the next time you feel the need to place an order hit this link right here: Bird & Blend Tea Co.
Enter the code TEAISNOTBS at the checkout with any other purchase to get a free 20g pouch of our favourite Bonfire Toffee.
What are we drinking?
Stewart
If we know one thing about our tea-drinking listeners it's that they like to pretend their tea is a cake, and so Red Velvet is 100% another one for you to try. This brews up a beautiful deep red thanks to the beetroot (don't worry, you can't taste it) and bright pink if you add milk. Tea + cake = good times.
Sri Lankan Black Tea, Beetroot, Cocoa Shells, Cornflowers, Vanilla Pieces, Calendula Petals, Sunflower Petals, Natural Flavouring
Amy
Amy doesn't know enough about Disney to figure out the name of this Belle's Breakfast, but this is a lovely rose tea that isn't too sweet but super fragrant.
Sri Lankan Black Tea, Kenyan Black Tea, Chinese Black Tea, Rose Petals, Natural Flavouring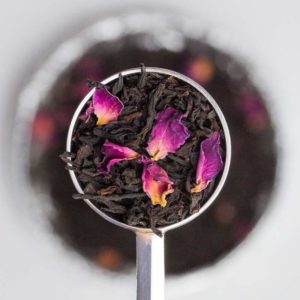 Lock-in Experience
An hour in a tea shop, trying different teas, talking about teas, taking home some tea, and even getting a bit drunk with tea (optional)! Stewart had a great time at the TEAster lock-in in Cardiff, check out one near you. Lots of option available!